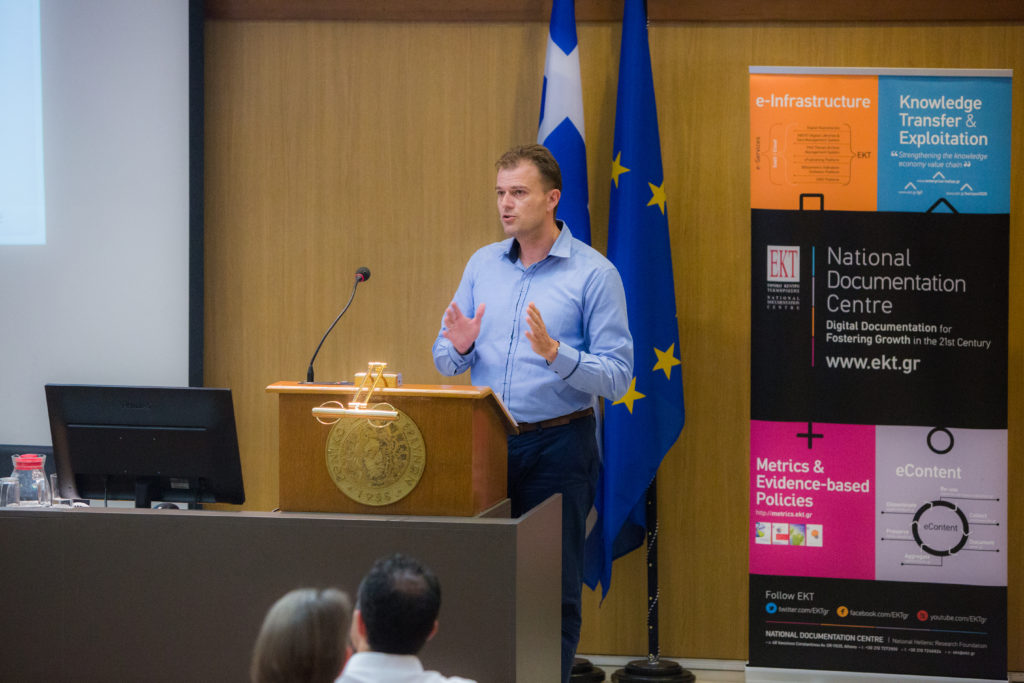 On the June 12th, National Documentation Centre (EKT/NHRF) organised the infoday "Open Science: key issues and future prospects" in the frame of Greece National OpenAIRE project.
The event provided a forum for the discussion and exchange of ideas and best practices between the key stakeholders in the transition to the open science/ open access paradigm. The high turnout along with the lively discussions that took place confirmed the increasing interest of the Greek research community and other key stakeholders in the opportunities created by open science as well as the necessity and importance of organizing similar initiatives. The presence of young researchers creates further promising prospects for the adoption of open science practices.
The first session focused on the presentation of European and national initiatives such as the European strategy on open access to publications and data, the European Cloud initiative and the European Open Science Cloud (EOSC) the latter being a key pillar of the European Cloud initiative. Participants had also the opportunity to learn more about OpenAIRE (the European infrastructure for the support of Open Science) and the way it assists scholarly communication through its extensive network of experts. Moving from infrastructures to policies, the presentation of the key messages from the PASTEUR4OA project highlighted the variety of strategies adopted by national stakeholders in the adoption and alignment of open access policies with the European framework. Policy support is currently provided to policy makers through OpenAIRE. The first session concluded with the discussion of the challenges posed by the transition from the subscription based model to full open access and the initiatives taken by member states in support of open access.
The discussion that followed confirmed that while the existence of infrastructures (namely repositories) in Greece is a welcome first step towards the transition to open science, they need to be complemented by the adoption of policies. Presentations on the strategies adopted by institutions in Greece and Cyprus and the content of the policies provided important insights and confirmed the importance of stakeholder collaboration and the positive impact of awareness raising actions.
The second session comprised a series of presentations on available resources, tools and training to support researchers in complying with Horizon 2020 open access mandate. These included the training material developed by FOSTER project, the tools to assist researchers in writing their data management plans, and the wide range of resources and support provided by the OpenAIRE National Open Access Desk (NOAD) network. Information was also provided on the Greek participation of the FP7 post-grant pilot and eligibility procedures given that the pilot has been extended until February 2018.
Greek researcher Stelios Krinidis (CERTH), member of Encompass research group,  talked about his experience on Linked Open Data & Data Management in the energy sector.
Stelios presentation can be stream from the EKT website:
Slides of the presentation can be found in EKT online library
All the presentations and slides can be found on the EKT Event website