The 3rd Yearly conference for Internet of Things "Connecting the Dots: A Comprehensive Guide for Successful Enterprise IoT Projects"(Available in Greek only) that took place in Maroussi Plaza in Athens(Greece) on 26/06/2017 was successfully closed.
This Year's conference it was a great success and great attended. The conference was organized and based on a realistic scenario: "A business has decided to invest in IoT technology in 2018 and the team that has undertaken the project is making its first meeting. Each member of the group has its own concerns and questions about the challenges that will need to be resolved so that the project starts, on the one hand, to get approval for funding and on the other hand to be implemented and to increase the business value. And then measure the ROI of the investment."
Through presentations, workshops and panel discussions, the conference identified the most important concerns and challenges for a successful business IoT strategy.
Mr. Arvanitis Konstantinos, the enCOMPASS project Impact Director, on behalf of WATT+VOLT presented the case study for "IoT in the B2C Energy Business", communicating the "smartwatt" services and the corporate energy management solutions.
Mr. Arvanitis explained the enCOMPASS project and emphasized the ways to achieve the main objectives for reducing the overall end user's carbon footprint at homes, schools and  at work places, while maximizing the individual's comfort standards.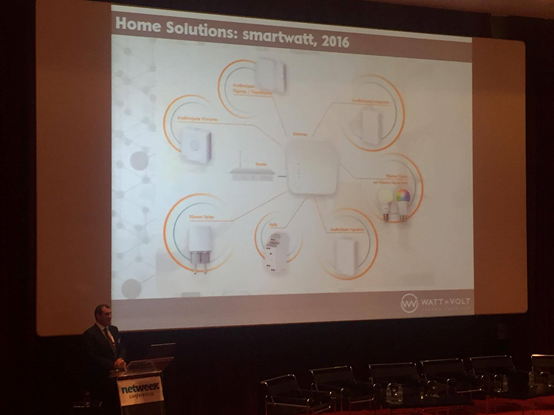 Mr. Arvanitis present "smartwatt" services for Smart Home Control.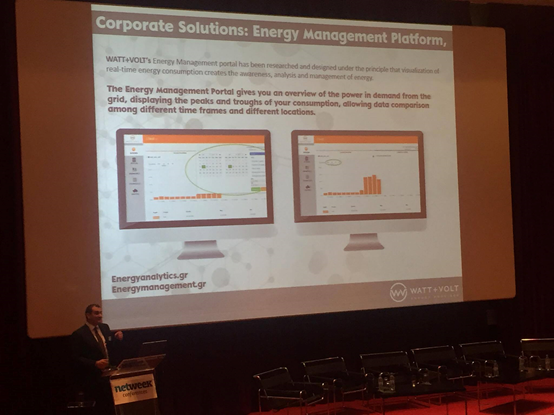 WVT platforms allows energy monitoring and control home devices remotely.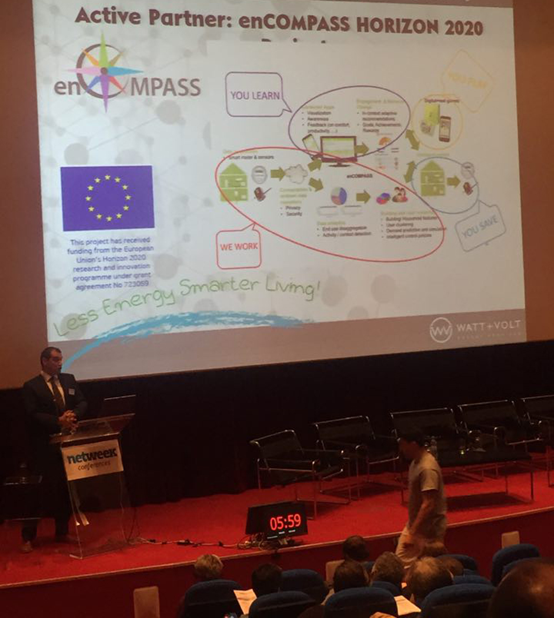 Mr. Arvanitis introduces the enCOMPASS and its approach to create awareness and reduce energy consumption.