The 20th European Utility Week  took place in Paris between 12 and 14 November 2019. The exhibition gathered more than 18.000 international energy professionals and about 800 exhibiting companies that came together to share knowledge and discuss the European Strategy to achieve a low carbon energy supply. The event aimed to explore key areas in the European energy landscape.
View of the EUW 2019 in Paris Expo Porte de Versailles
The European Union is also fully committed to promoting a low-carbon economy for a healthier and more digital world. In the EU Projects Zone, visitors at European Utility Week had the chance to know more about the status of all research and development projects funded by the European Commission to find answers and solutions to accelerate the energy transition.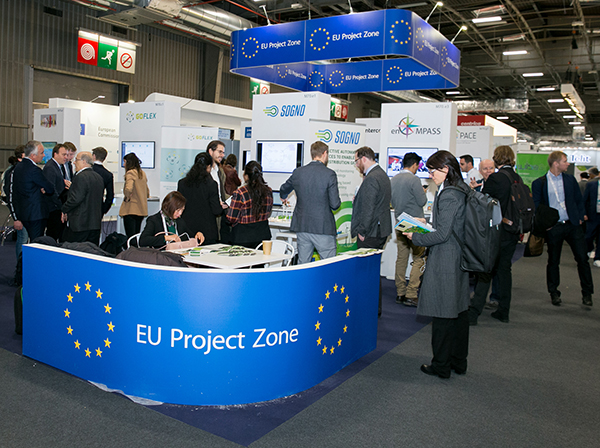 The EU Projects Zone during the EUW2019
The enCOMPASS Project was an exhibitor during the EUW 2019 in the EU Project Zone and made public the work done. The enCOMPASS booth was full of visitors where the Project Partners demonstrated the total approach, the projects achievements , and the sensors infrastructures.
The enCOMPASS Project Partners during the EUW2019
Moreover the FUNERGY game, made outreach impressions to all visitors, who had the chance to experience playing the physical game itself, look and feel the game cards and inform about the advantages of playing the Funergy Game either as a card game or as the mobile App from the game designer himself Mr Spartaco Albertareli. The visitors impressions confirmed once again the value added asset of production of the FUNERGY game and the FUNERGY APP during the enCOMPASS Project.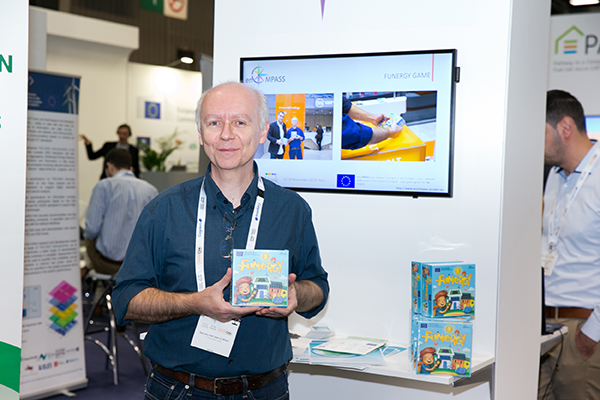 The enCOMPASS project Co-Ordinator Professor Piero Fraternali of politecnico di Milano presented the enCOMPASS objectives and approach: "Data intelligence for consumer awareness and behavioral change" during the dedicated Hub Session for the enCOMPASS Project. The audience was impressed by Prof. Fraternali's presentation and followed up with questions about the behavioral change of the consumers spending less energy and the enCOMPASS approach.
Professor Piero Fraternali presenting the enCOMPASS approach during the EUW2019
Mr Konstantinos Arvanitis the business development manager of WATT+VOLT and the enCOMPASS Project impact Director Stated: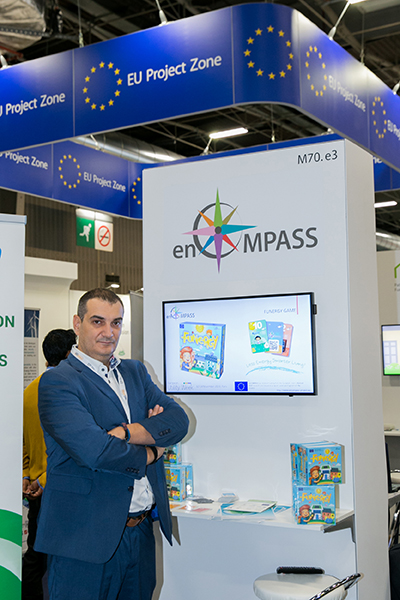 "The European Utility Week 2019 was an outreach international event, and took place at the perfect timing for the enCOMPASS EU Project, which is finalizing the next month.
During the exhibition we managed to attract the visitor's attention and tell the enCOMPASS story, publishing the outcomes and outlining the project's results and assets.
I congratulate the EUW event organizers and the European Commission. We are grateful and we appreciate each one visited the enCOMPASS booth and the hub sessions. We are delighted with all the visitor's feedback. After the fruitful discussions we had with several event attendants, we foresee a sustainable energy landscape giving our project several opportunities for further exploitation and assets commericalization."