enCompass, The compass to get oriented in your energy consumptions
Do you know how much energy you consume? And how and how much you could save it?
With enCompass you get customized suggestions, compare with your neighbours and receive prizes every time you reduce your consumption
The enCOMPASS European project is developing a smartphone-based system that collects energy consumptions of buildings and provides their users with recommendations and customised suggestions on how to reduce them, without altering perceived comfort by its users. The enCOMPASS app exploits the smart meter network already installed by utility companies, and also exploits a series of sensors, on purpose installed in the buildings involved in the project. Such sensors automatically detect presence of persons, temperature and humidity. Monitored data are analysed in (nearly) real time, so that, directly on their smartphone, users are provided with simple and intuitive information on their consumption patterns and with suggestions on how to reduce them.
The enCOMPASS system is being tested at the same time in three European countries: Germany, Greece and Switzerland. For Switzerland, the project is coordinated by the University of Applied Sciences and Arts of Southern Switzerland SUPSI (www.supsi.ch) and Società Elettrica Sopracenerina SES (www.ses.ch), in collaboration with the Municipality of Gambarogno (www.gambarogno.ch) and Paradox Engineering (www.pdxeng.ch). Together with the Municipality of Gambarogno which in 2017 has been awarded "City of energy" and enthusiastically supports the project, we selected the region of Contone.
The enCOMPASS trial
One hundred familied of Contone will be allowed to install at home the sensors developed by the project and to take part in the experiment: they will test the enCOMPASS app and, with their suggestions and comments, will contribute to improving its effectiveness. Also the primary school in Quartino-Cadepezzo and the Municipality building at Magadino will be endowed with the same equipment, with the aim of investigating effectiveness of the enCOMPASS system also in public buildings. Children attending the primary school will also be invited to join educational activities on energy saving topics.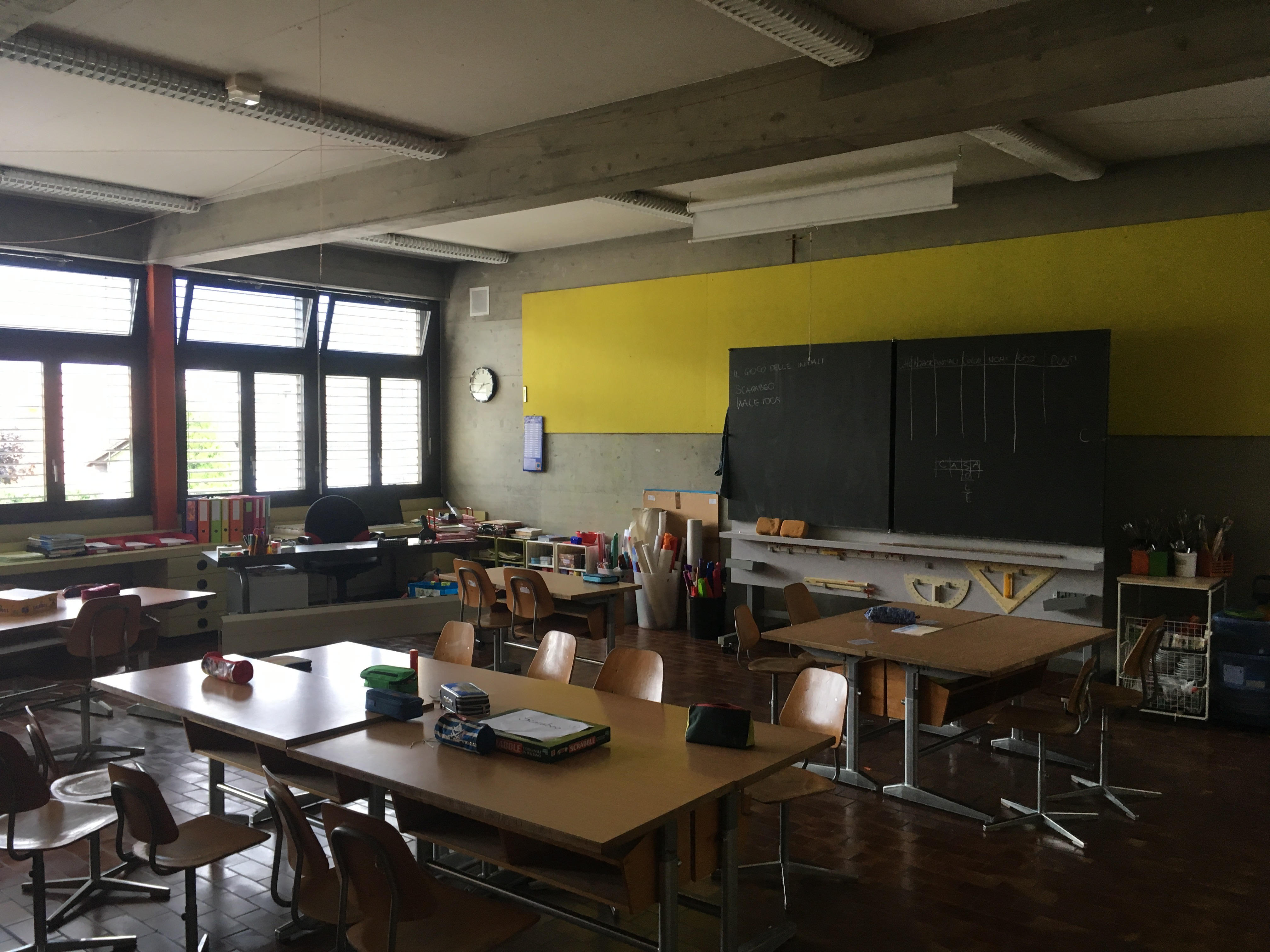 Classroom in Quartino-Cadepezzo
Households signing up for the trial are requested interest and willingness to:
test the enCOMPASS app from May 2018 to July 2019, by installing on their smartphone the versions of the app that will be released over time, and by regularly interacting with them;
to authorize installation at home of the sensors for data tracking for free.
In exchange for this,prizes are offered: all the participating households will get a welcome gift related to energy saving topics and a discount on their energy bill, for the value of 100 CHF (only attributed to those participants who will remain active until the end of the trial). Considering all the households who will remain active until the end, also the "enCOMPASS super-prizes", for the overall value of 3'000 CHF, will be raffled-out.
How to participate
Participants to the enCOMPASS project will be selected during Winter 2017-2018: interested households can already sign up for the project, by means of the form available at www.ses.ch/encompass. To know more, you can contact SES, SUPSI or Paradox:
DEADLINE FOR SIGNING UP: JANUARY, 31 2018