The European Utility Week 2017 (EUW 2017) is the first business, innovation and information platform connecting the smart utility community, and will take place in Amsterdam, The Netherlands, from October 3rd to October 5th.
At this year's meeting point, gathering 12,000 international visitors from all levels of the utility value chain from technology giants to startups and from senior-level experts to young talent, enCOMPASS and WATT+VOLT are joining forces in order to introduce the enCOMPASS approach "from smart water to smart energy" for engaging customers in sustainability using.
In this context, PhD. Piero Fraternali, professor of Politecnico di Milano leading the enCOMPASS Project, will be presenting the project's approach in the EUW 2017 Hub Sessions.
Wednesday, October 4, 2017 – Theatre Big Data & Analytics 15:10 "Engaging customers for sustainability – from water to energy: the enCOMPASS project"
Wednesday, October 4, 2017 – Theatre Big Data & Analytics 17:20 "Lessons Learned from Practical Experiences with ICT for energy efficiency"
The Hub Sessions offer practical content and are free to attend for all visitors who visit the EUW exhibition.
Konstantinos Arvanitis, Business Development Manager at WATT+VOLT and enCOMPASS project Impact Director, noted: "Shaping energy industry's future is a process that should follow an integrated approach, including all stakeholders in the smart energy ecosystem. The participation of the enCOMPASS, and EU project, in the European Utility Week in Amsterdam for presenting its consumer engagement strategy, aims to this exact goal and to ultimately empower people to understand the choices available on energy consumption. For this reason, we are delighted that the enCOMPASS project coordinator, Professor Piero Fraternali, is the spokesperson regarding this mission, introducing the total project's approach at EUW 2017".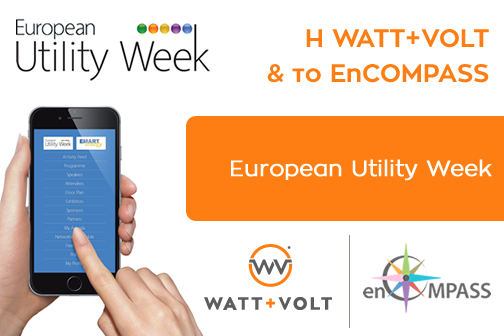 Follow closely the event at http://www.european-utility-week.com/