One project partner of the enCOMPASS family, the Greek electricity service provider WATT+VOLT, is sponsoring the successful Greek basketball team PAOK BC. Recently, the sponsorship was taken a step forward, creating the extremely ambitious and pioneering business project "PAOK ENERGY". As part of this collaboration, the first WATT+VOLT store was created in the west of Thessaloniki.
In the new store, which opened its gates mid of January 2018, visitors enjoy combined benefits through a wide range of products. Privileges such as: reduced electricity prices and integrated energy services, with additional "surprises" and gifts (games tickets, signed jerseys by ex-superstar players and now president of the team Mr. Bane Prelevic etc.) of their favorite PAOK team.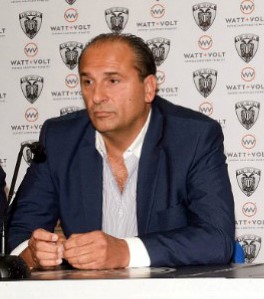 "We are very happy and proud of being the first team in Greece that dared to turn a sponsorship relation into a trade co-operation. We want to thank WATT+VOLT for the confidence she has shown to the team. I'm sure that this new innovative project has a brilliant future."
Mr. Bane Prelevic
(Photo: Pavlos Makridis)






enCOMPASS excited and potential users can visit either the WATT+VOLT retail store or the PAOK ENERGY stores to subscribe for taking part in the enCOMPASS pilots in Thessaloniki, gaining a smart watt kit or join a game experience in PAOK Sports Arena, and of course all the enCOMPASS project benefits. For the enCOMPASS project, this is the perfect opportunity to gain further publicity and broaden their target groups. WATT+VOLT as an active enCOMPASS Partner is cooperating with PAOK BC to wide spread the Thessaloniki Pilot and the total project's objectives. The team's player houses and families were among the first ones who were pleased to join the enCOMPASS approach.

PAOK BC players at the new store, signing and participating in the enCOMPASS project (Photo: Pavlos Makridis)